Website: https://www.avs4you.com/avs-video-remaker.aspx
Buy AVS4YOU One Year Subscription with 40% discount
Buy AVS4YOU Unlimited Subscription with 40% discount

Download:
AVSVideoReMaker-6.7-sos.exe
Download: AVSVideoReMaker-6.4.2.245.exe
Download: AVSVideoReMaker-6.3.2.236.exe
License Key: 1ced9c2c-f910-482b-9513-aa61cb0581e0
License Key: 3de29721-b621-4704-8cd2-9c079914db9f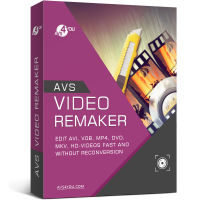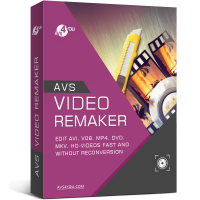 Edit Video Files without Reconversion
Cut, delete unwanted parts, change scene sequence in MPEG, AVI, DVD, Blu-ray, WMV, etc. with AVS Video ReMaker. Save videos without reconversion.
Work with Various Video Formats
Edit AVI, VOB, MP4, DVD, Blu-ray, WMV, 3GP, FLV, TS, DVR-MS, MOV, MKV, H.263/H.264 codecs, etc. See a full list of supported video formats
Edit HD-Videos
Edit AVCHD, MOD, MTS/M2TS, TOD, etc. video files recorded with camcorders and video cameras.
Create DVD and Blu-ray Menus
Split video into chapters, select between a number of menu templates. Burn video files on to DVD- or Blu-ray discs with AVS Video ReMaker.
Capture Video
Transfer video from camcorders and video cameras to hard drive, edit files and create home video DVDs with AVS Video ReMaker. Capture video from Web cameras and DV cameras.