Ashampoo Backup Pro 14 backs up data and operating system automatically to all common storage types and cloud services, effectively preventing data loss in the event of system failure or malware infections.

Website: https://www.ashampoo.com
Download: ashampoo_backup_pro_14.09.exe
Download: ashampoo_backup_pro_14_33817.exe
Download: ashampoo_backup_pro_14_33514.exe
Giveaway: link
Download: ashampoo_backup_pro_14_32208.exe – mirror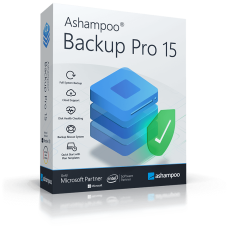 Ashampoo Backup Pro 14 is powerful backup software for file and drive backups as well as data recovery, including bootable systems. Backups can optionally be auto-created without noticeable system slowdowns, thanks to the use background processes and smart load balancing. Always up to date backups effectively take the fear out of hardware defects, OS issues or malware infections. Dedicated compression and encryption technology minimizes file footprints and safeguards data against unauthorized access. Aside from traditional storage media, Ashampoo Backup Pro 14 also supports multiple cloud services, both for individual files and entire drive partitions. Backups can be restored either through the program or Windows Explorer. In the event of a total system failure or malware infection, users can rely on the built-in rescue system to boot or restore their systems and access their backups.
For this purpose, Ashampoo Backup Pro 14 can create either bootable DVDs or USB drives. Version 14 features a completely overhauled backup engine for enhanced security, compatibility and versatility. Automatic data verification practically eliminates any chance of backup corruption while the new 1-click hard drive verification with SMART-based failure prediction ensures disk health and data integrity. Cloud service support has also been improved and further optimized for security and performance.